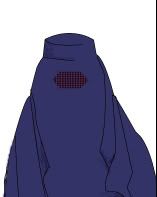 If so, please contact the authorities immediately! She is wanted for armed robbery.
A West Midlands jeweller says it is a "disgrace" that a robber dressed in a burka in order to rob his store.

The armed robbery at Friends Jewellers in Cape Hill, Smethwick, on Wednesday involved five people and thousands of pounds of jewellery was taken.

Ash Kumar, the shop owner, said that the Muslim community should be "in uproar" over the tactic.
http://news.bbc.co.uk - Jeweller's anger over burka ploy
I'm sure the Muslim community will be in "uproar" just as soon as someone suggests shops could refuse service to anyone with the face covered...