Sadly, it seems most the world has been duped by Albanian separatists (i.e. Jihadists). They played victim, and the West happily destroyed their enemies.
Now, the Serbs left in Kosovo are sitting ducks for rampaging Muslim mobs eager to impose Islamic dominance.
British Ministry of Defense has dispatched additional troops to Kosovo in fear that the self-proclaimed independent state will quickly slide into ethnic cleansing.
http://www.serbianna.com - Slide into ethnic cleansing feared in Kosovo
A map of lower Serbia, with the disputed territories of Kosovo highlighted: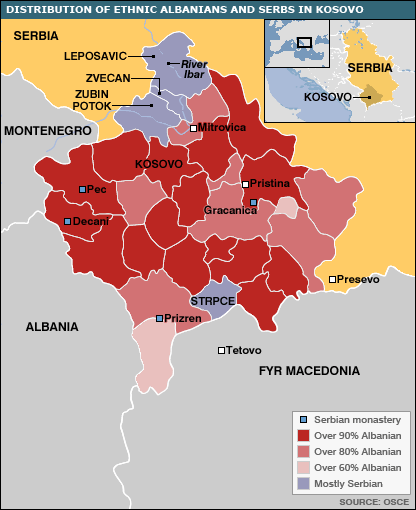 What this map, and most Western media outlets, is not mentioning is that the "Albanians" are not hapless victims who finally achieved deserved independence. They are Muslim immigrants who saturated southern Serbia until they were able to violently purge non-Muslims from Kosovo.
The Albanian Jihadists have succeeded in establishing a new, radically Islamic state.
What is happening in Kosovo is a prelude to what we can expect in Europe and America in the coming decades.
More Al Salibiyyah posts about Kosovo:
The Savage Nation On Bill Clinton & The Kosovo War
Anniversary Of A War Started By A Lie
Serbian Muslims Damn Americans, Jews, Deny 9/11
Muslims Condemn Serbia For Defending Itself
Kosovo Muslims: No Talks, Just Give Us What We Demand
Muslim Albanians Demand Right to Dominate Non-Muslims