Today, the mainstream media trashes and bashes our troops every opportunity - even going as far as inventing atrocities the U.S. soldiers supposedly committed. Major media outlets such as the New York Times routinely print frontpage stories and images smearing American troops, but once the story is discovered to be a fabrication or the image is found to be doctored, the best we can hope for is a 'correction' deep within the bowels of the newspapers.
A peek back in to history reveals that, not only did our politicians have a set of brass cojones, but even war correspondents had the intestinal fortitude to report the truth.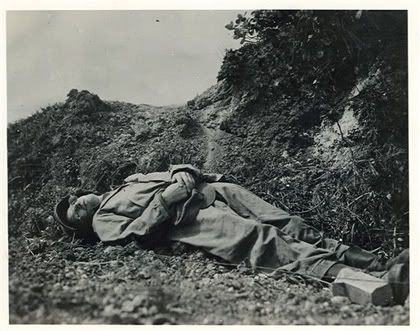 NEW YORK (AP) - The figure in the photograph is clad in Army fatigues, boots and helmet, lying on his back in peaceful repose, folded hands holding a military cap. Except for a thin trickle of blood from the corner of his mouth, he could be asleep.

But he is not asleep; he is dead. And this is not just another fallen GI; it is Ernie Pyle, the most celebrated war correspondent of World War II.

As far as can be determined, the photograph has never been published. Sixty-three years after Pyle was killed by the Japanese, it has surfaced—surprising historians, reminding a forgetful world of a humble correspondent who artfully and ardently told the story of a war from the foxholes.

"

It's a striking and painful image, but Ernie Pyle wanted people to see and understand the sacrifices that soldiers had to make, so it's fitting, in a way, that this photo of his own death ... drives home the reality and the finality of that sacrifice,

" said James E. Tobin, a professor at Miami University of Ohio.

Tobin, author of a 1997 biography, "Ernie Pyle's War," and Owen V. Johnson, an Indiana University professor who collects Pyle-related correspondence, said they had never seen the photo. The negative is long lost, and only a few prints are known to exist.
http://www.breitbart.com - Death Photo of War Reporter Pyle Found