(Hat Tip: Jihad Watch)
Osama bin Laden may be hiding in the impenetrable mountains near the Afghanistan border, but FBI counterterror officials say they have identified several of his associates in a far more accessible spot -- northern New Jersey.

The FBI's elite Joint Terrorism Task Force in Newark says it is not only monitoring a number of North Jersey residents with ties to al-Qaida, but that agents have quietly "disrupted" their activities and even deported a few.

These glimpses into North Jersey's war on terrorism, from a series of interviews with task force leaders, come on the heels of revelations last summer that Bin Laden's terror network had regained strength. But that rebuilding was thought to have taken place overseas.

This is the first time since the 9/11 attacks that FBI counterterror officials have revealed an al-Qaida presence in North Jersey.
Kelly: Al-Qaida associates in N.J.
Mike Kelly goes on to say:
As a result, task force agents are in daily contact with officials at the CIA and other American intelligence agencies who monitor phone and Internet traffic from North Jersey to known operatives for al-Qaida and other terrorist groups.
Apparently, the FBI and CIA doesn't have one of these nifty maps: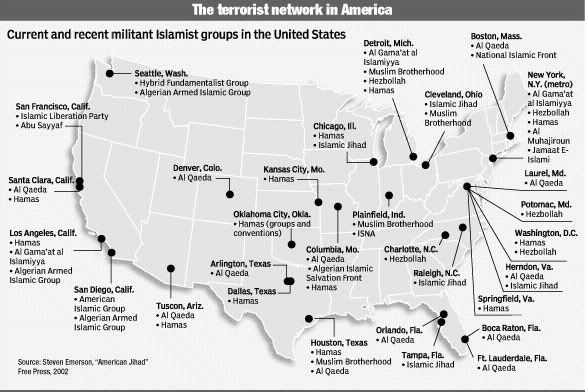 (Click to enlarge)