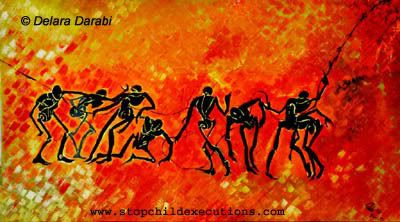 Despite a worldwide effort to
save
this young woman's life, Iran went ahead with the
execution
.
Delara Darabi was executed in secret in Rasht Prison May 1 2009, without prior notification given to her attorney. She was sentenced to death for a murder that happened during a break-in when she was 17 years old.

According to Delara Darabi the murder of her father's female cousin was committed by her 19 year old boyfriend Amir Hossein Sotoudeh, whom she was in love with. Delara initially confessed to the murder, but soon retracted her confession. She claimed that Amir Hossein asked her to admit responsibility for the murder to protect him from execution, believing that since she was under the age of 18, she could not be sentenced to death.

R.I.P., another victim of the cruel and unjust legal system of Islam.
"Prisoner of Colors"
More on this story:
www.amnesty.org - Delara Darabi Press Reports
Delara Darabi executed in Iran
Amnesty outraged at Iran juvenile execution
Iran Hangs Young Woman Convicted of Murder
Iranian Execution Provokes Outrage
Delara's artwork can be viewed
HERE
.
(Cross-posted at
SnappedShot.com
)